IPC-G4500 Industrial PC
Integrated 1*VGA, 3*RS485, 4*RS232, 1*CAN bus, Ethernet, USB Host...
CoreWind IPC-G4500 is a low-cost industria PC based on Atmel AT91SAM9G45 ARM9 processor. It can support memory up to 128MB DDR2 SDRAM and 256MB Nand Flash. The device has VGA, Audio in/outEthernet ports, two high-speed USB Host ports, three RS485, Four RS232 serial ports and one CAN bus to communicate with other external devices and utilizes a 12V DC power supply. It is a ready-to-run Linux 2.6 system.
IPC-G4500 Industrial PC
CPU: Atmel AT91SAM9G45 ARM core processor @ 400MHz
128Mbyte SDRAM
256MB NAND FLASH
TF card support
RTC/Watchdog/Buzzer Support
VGA, Ethernet, USB Host, Audio In/Out
4 x RS232, 3 x RS485, 1 x CAN bus, 4 LED
Support expand more interface by custom design
Support Linux 2.6.30 system(Telnet, NFS, TCP/IP support)
Industrial standard: -40 ° C ~ +85 ° C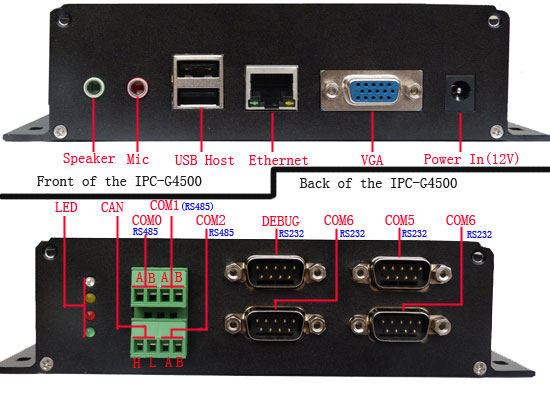 Support Linux 2.6.30 System
CAN Bus 2.0 driver
LED driver
USB Host
NET: Ethernet, TCP/IP, Telnet
Serial port driver, RS485/RS232 Driver
VGA Driver, 800*600
Yaffs filesystem
Industrial control
Field Communication
| | | | | |
| --- | --- | --- | --- | --- |
| No | Name | Temperature | Price | Order Now |
| 1 | | | $299USD | |
if you want to buy it by Bank T/T, please send the mail to us(market@ipckit.com), We will provide the P-invocie file to you.
For the SBC and IPC board, we will provide the follow tools attached with the board:
12V Power Adatper, Serial cable, Net cable, USB Cable, and DVD(contain source code, system images file and user manual)

.
Contact Us

Tel: +86-755-29638421
Sales Email: market@ipckit.com
Support Email: support@ipckit.com
Gtalk: armdevs@gmail.com

Customer Design Service

CoreWind also offers customer design service based on the IPC-G4500 board according to customer's requirement. Whether you need to reduce, add or modify to existing hardware, CoreWind will help customers with expert competence and rich experience.